US Coast Guard Inspected & Certified for Safety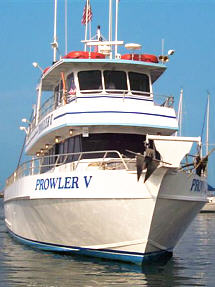 The Prowler 5
is a 85 foot super cruiser, and is SUPER FAST
to the fishing grounds.
All Trips Include:
Comfortable Fishing

We supply the Bait

Comfortable & stable ride

Helpful assistance from the crew

Optional Biggest Fish Pool
More Features:
PROWLER5 - TOG REPORT

Hey gang, togging was ok yesterday (Mon.) had some limits. Fishing was the best up in the bow. No one went fising today with the rain. We'll be lighting up tomorrow morning. Come on down. Heated handrails, crabs supplied for bait.

PROWLER5 - FRI., - BIG TOG, NICE BOUNCE BACK - SAILING SUNDAY

Hey gang. Only six anglers showed up to go fishing on the Prowler5 today. We fished 17 fathoms and I do believe everybody got their limits today on big tog, plus some nice big ling. We had a lot of nice big togs caught Friday.

PROWLER5 - SUN.

Hey gang. Fishing was horrible yesterday. The water temperature dropped after the storm. Had one keeper blackfish and a couple of ling. Hopefully, it will bounce back. I think that was the concensus of all of the boats yesterday. Tough day.

PROWLER5 - WED. TOG REPORT

Hey gang. Fished 17 fathoms. Carlos Leroy caught a 15 lb. cod and won today's pool. Bucktail Bob and a few others had their limit. In NJ the limit is now four. Heated handrails, heated cabin, green crabs and white leggers.





THE PROWLER 5
IS NOW
DONE FISHING UNTIL FURTHER NOTICE
CLEANEST LADY'S ROOM ON THE EAST COAST - IMMACULATE
CAPT. SCOTT,
CAPT. GLENN AND
ABSOLUTELY THE BEST CREW ON THE DOCK

FULL GALLEY
CHEESE BURGERS, HOT PIZZA, CHIPS, CANDY AND A VARIETY OF SNACKS, WATER AND SODA
WE ADDED 15 NEW BUNKS AND PUT IN THE BIG LUGGERS.
MORE POWER, MORE TORQUE, MORE SPEED.

WE HAVE RECENTLY ADDED A PORCH TO THE PROWLER 5. THERE IS NOW MUCH MORE ROOM TO FISH IN THE STERN.
THE 2013 STRIPED BASS LAW IS TWO AT 28 INCHES. THIS WILL BE GOOD FOR EVERYONE.
LIKE OTHER PARTY BOATS, THE PROWLER 5 IS AN OPEN BOAT, NO RESERVATIONS NEEDED

Full $65-7:30 a.m.-2:30
Full $65-3:30 p.m.-9:00
Junior $40
Rental Rods $5
Bottom Rigs $3.00
Special Fluke Rigs
Sinkers 25cents per oz.
Group Rates are available during the week only and Gift Certificates available in December